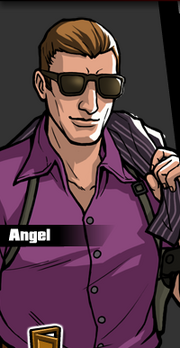 Angel is a character who gives you missions at Sticky's Bar. He is your cousin.
"Yo cuz, I ain't seen you for years man who you doin'?"
"You wanna piece of the action?"
"You cuz, I heard there was trouble at The 7. They could do with your help."
Ad blocker interference detected!
Wikia is a free-to-use site that makes money from advertising. We have a modified experience for viewers using ad blockers

Wikia is not accessible if you've made further modifications. Remove the custom ad blocker rule(s) and the page will load as expected.