The
Black Market
is run and operated by
Bug
. In the black market, players can buy weapons, energ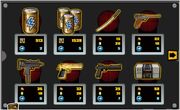 y refills, and miscellaneous other goods. All items in the Black Market are better than the items found in
W.A.S.D. Arms
, but are also costlier.
List of items
Edit
C-4
Body Armor
MP5
AK47
M16A4
Protecta
Barrett M82
M249
MG42
RPG
M72
Tear Glass
Chainsaw
Hunting Bow
AA-12
SCAR
Tommy Gun
Dual Daggers
F2000
Ma Deuce
Minigun
Excalibur
Milkor
Crossfire
Dual Katanas
Dual MacDaddy
Dual Goldilocks
Dual AK47
Dual Protecta
Dual RPG
Dual Chainsaw
Dual Minigun
Dual Milkor
Ad blocker interference detected!
Wikia is a free-to-use site that makes money from advertising. We have a modified experience for viewers using ad blockers

Wikia is not accessible if you've made further modifications. Remove the custom ad blocker rule(s) and the page will load as expected.